I've always been a book lover and like many American children, I grew up with an assortment of picture books. The Berenstain Bears, Little Critter, Lyle, Lyle, Crocodile, and more were part of my little bookshelves, but I never really had a favorite. No, I didn't find my favorite picture book until ten years ago at the age of 27. As far as I'm concerned, A Small Brown Dog with a Wet Pink Nose by Stephanie Stuve-Bodeen and Linzie Hunter is a masterpiece.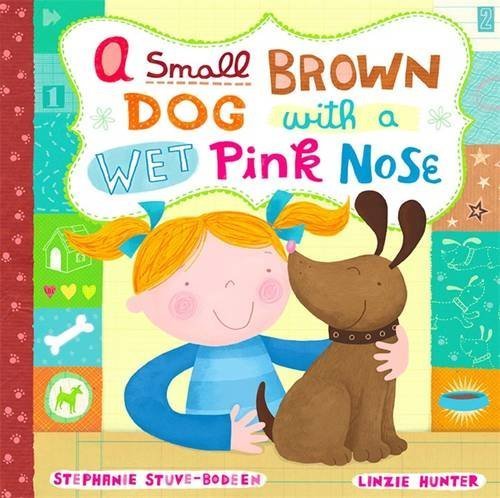 I was working at the London Public Library at the time, and I would often cover the children's desk. One day this picture book came in with an interesting title and the most adorable little dog on the cover winking slyly at the reader. Its pages told the tale of little Amelia who wants a dog, but her parents don't think she's ready for the responsibility. She sets out to prove them wrong by taking care of an imaginary dog named Bones, "a small brown dog with a wet pink nose," whom she feeds and walks dutifully. One morning, Amelia frantically declares that Bones has gone missing. Her parents decide to play along and help her look for the imaginary dog, which leads them to [SPOILER ALERT] the local animal shelter where Amelia spots the "real" Bones who matches the description of the imaginary Bones perfectly. Being the clever, clever little minx that she is, Amelia proclaims "WE FOUND YOU" to the little dog and her parents acquiesce, realizing that she's ready for a dog after all, and then I cry.
I mean it, I cry. I cannot read this picture book without crying. I can't even think about this picture book without crying. I'm crying right now just writing about this picture book. The words "WE FOUND YOU" trigger the waterworks for me without fail, because it's such a sweet and happy ending with a little dog finding a loving home. Years ago I found a retired library copy at a library book sale and just had to buy it for myself.
A few days ago, I was telling the children's staff at my current library about the book and my experience finding my favorite picture book as a grown up, and none of them had heard of it. Miss Diane did a search and discovered our library did not carry it. "Well," she insisted, "it sounds perfect for my dog storytime tomorrow. Can you bring it here?" I agreed, and Miss Diane also fell in love with the book. She read it to the children for storytime, and she said they, and their parents, were all entranced by it.
So, that gave me some warm fuzzies inside, for sure, knowing that the book I love was read for storytime and that it spread the joy that it makes me feel to others. I'm telling you, if you have never read this picture book, please be good to yourself and go find it. I've got it if you'd like to borrow it. And remember the important lesson that the book is advocating; there are so many wonderful animals in shelters in need of loving homes, please adopt before you shop.